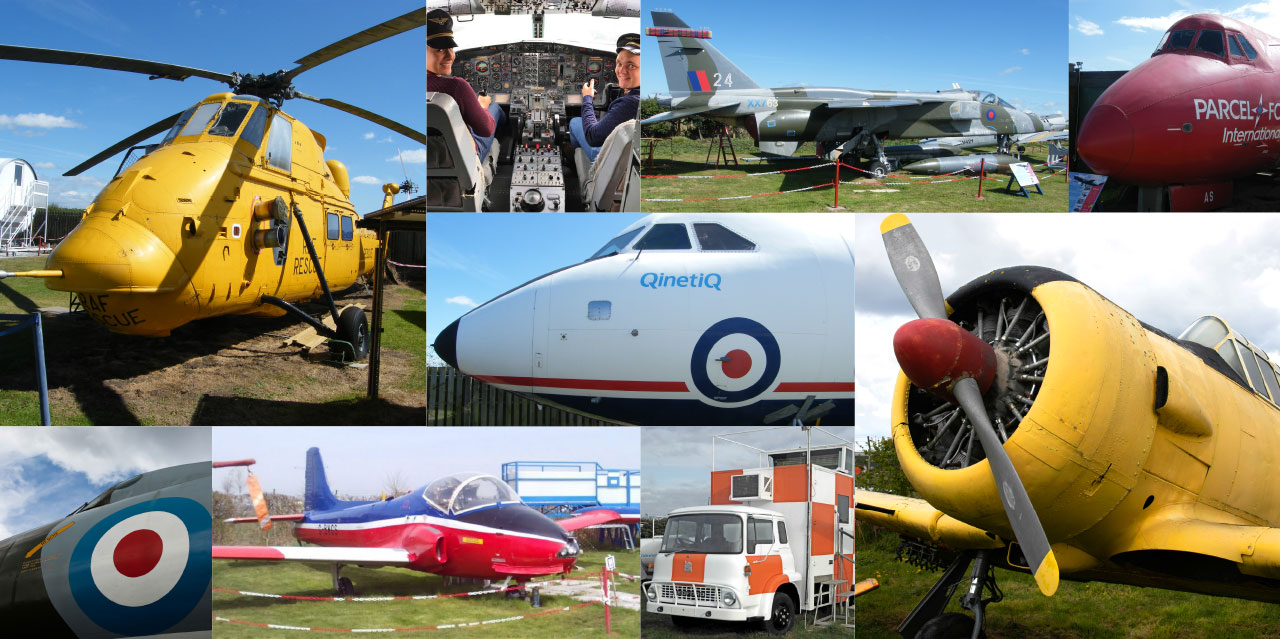 Welcome…
…to the Bournemouth Aviation Museum.
We're different to many other museums and offer a "hands-on" experience. Visitors of all ages are encouraged to climb into the cockpits of many of our aircraft. Imagine what it is like to be a pilot by handling the controls and fly away to wherever your imagination desires.
No need to pre-book a visit (unless Groups of 8 or more) just come along whenever you want to, there is plenty of free car parking. If you are bringing a group of 8 or more, please submit an Application Form on the website or phone the Museum to discuss arrangements.
Please note that the admission prices are now: Adults £10 and Child (age 3-16) £5. An annual membership is also available allowing unlimited visits. For details see under Friends  at the top of this page.

Welcome aboard.
Located right by the Bournemouth Airport runway, so nice and easy to find, they even write down when all the planes are leaving so you can go up to the... read more viewing platform and see them take off. Very noisy!

Also, you can wave at the pilots when they're taxiing the planes and they wave back! The museum is excellent - you get to climb in lots of the planes. There's a cool flight simulator and lots of information. Volunteers couldn't be nicer. Definitely worth going!

-_-Plane-_-nerd-_-77


5/08/2020

Took our 13 year old plane mad son. Great value for money. Has basic facilities and no coffee shop but going in lots of the planes was a real... read more excitement for him. He's a you tube fan and knew how to fly the 737 so went through the sequence and all the buttons and levers for take off and landing.

aliianmowbray


10/29/2019

Whilst visiting Bournemouth airport on business, I dropped upon the aviation museum by accident, and what an accident!, The volunteers are so friendly and passionate about their collection, they have... read more a variety of aircraft and the odd land vehicle. The plus point is that a lot of the collection is accessible so visitors can go inside and experience them. I really wish like they do that they could get a hangar building to protect their excellent collection for generations to come because with their passion and their nice collection they really deserve it.
5 stars from the visiting undertaker.
If your in the area its a must see!!

hemsellrepatriation


10/18/2019

Great place. It's right by the Bournemouth Airport runway and they write down when all the planes are leaving so you can go up to the viewing platform and see... read more them take off. Also wave at the pilots when they're taxiing the planes and they wave back The museum is excellent - you get to climb in lots of the planes. There's a flight simulator and lots of information. Volunteers couldn't be nicer. Definitely worth going!

Emilylucybrowne


1/25/2020

A simple collection of old planes (and a few other vehicles), most of which you can climb in to. It's great for plane enthusiasts and small boys. Run by volunteers... read more who love to give help and information. There's a small shop which sells ice cream and a few plane related toys, and a some tables outside for those clever enough to bring a picnic.

Jacqueline F


11/06/2019

Went ophere with my two young boys. They had a great time. There is so much for them to do. The attractions include a fire engine, double decker bus and... read more about 20 planes. There is a viewing gallery and some simulators. The place is manned by volunteers who love what they do, many of whom are retired pilots, air traffic controllers or aircraft engineers. Recommend a visit!

Maurice2908


10/21/2019

As I enjoy walking around aviation museums and found this one, it's small but you can get into some of the cockpits which is interesting. Staff are really good and... read more will open up a cockpit if you ask them. Free parking as well .

Tim M


10/08/2019

Marvellous at both ends of the spectrum. The fire engine was great fun for children, as was the yellow double decker bus - my grandson loved being the driver... read more and opening and closing the doors. For adults it was super to climb right into the cockpit of planes used during the war, to imagine just what it would have been like. We all enjoyed the passenger plane, helicopters and other planes because it's all such a wonderful hands-on experience. With a tiny amount of imagination, you can go anywhere.
It's all layed out really well and the staff are friendly and helpful yet leave you to wander and explore freely as much as you like.
I would love to go again because although we were there for a couple of hours we would have enjoyed longer.
PS the weather was cold but it was ok inside the vehicles and would have been fine if I'd wrapped up properly.

pennyj607


2/23/2020

I really do love this place - EXACTLY AS IT IS! Open air, not undercover. And all the exhibits are accessible to visitors to touch, inhabit and play... read more with, rather than cordoned off and untouchable. The staff team are amazingly friendly and helpful. They will answer any questions you may have, but they will also leave you to explore the exhibits alone, if this is what you want or need to do, and I love this lack of 'preciousness'. This 'lack of museum-ness'!
My only 2 visits here have been as a teacher/tutor of young people with varying special educational needs, but both visits have been phenomenal and incredibly inspiring for the two students I have taken there. For one, who was a quiet and very introverted teen, he sat in the cockpit of a plane and baffled me with his knowledge and understanding of what each of the controls did! It turned out his older sister was an air hostess and he had spent hours on YouTube learning how to fly a plane!
My most recent visit was with a much younger student of 8 years old, who claims he has no imagination and hates writing! But when he sat in the cockpit of that same plane, dressed up as pilot, he entered into a role play with me as the 'trainee co-pilot' for approximately an hour!!! And he was very bossy!
There is no coffee shop or restaurant there and I love this. There is a drinks machine in a porta cabin – very cheap £1. Or take your own packed lunch and drinks.
I personally could not recommend this place more. But don't listen to me! …
PS thanks to all the staff there – and well done RF!
A review by Ryan F. Aged 8. (Published on Trip Advisor with Mum's consent).
PLANES ARE EPIC!
Great fun, the best part was dressing up as a pilot. Loads of planes, helicopters, AND EVEN AN OLD DOUBLE DECKER PARTY BUSS!
There was nice and friendly volunteers that we had a little laugh and chat with. There is also a great simulator where you play as a plane.
I highly recommend going there its cool I went there with my tutor Sue for a little day out and I LOVED IT but anyway that's my opinion so yeah have a nice rest of your day and make sure to go to that place, it's epic .

TIBeautifulA


2/08/2020

Brilliant! Very informative, and unlike other museums because they let you touch almost everything! Very well run and plenty of things to do. Really recommend going here.

401reecej


12/23/2019